Nissan Maxima vs. Honda Accord
DARE TO COMPARE
Nissan Maxima vs. Honda Accord


At a Glance: Maxima vs. Accord
Honda and Nissan are both well known for crafting sedans loaded with comfort and great performance features. However, at South Shore Nissan, we've driven both the Nissan Maxima and the Honda Accord so we can identify the highlights of each model.
When Amityville, NY drivers want to discover which sedan can satisfy them, all they have to do is check out our 2023 Nissan Maxima vs. Honda Accord comparison.

HORSEPOWER
Maxima vs Accord

TOUCHSCREEN
Maxima vs Accord

BLIND SPOT WARNING
Maxima vs Accord
See the Difference for Yourself
Select a category below to learn more about how the 2023 Nissan Maxima compares to the Honda Accord.
PERFORMANCE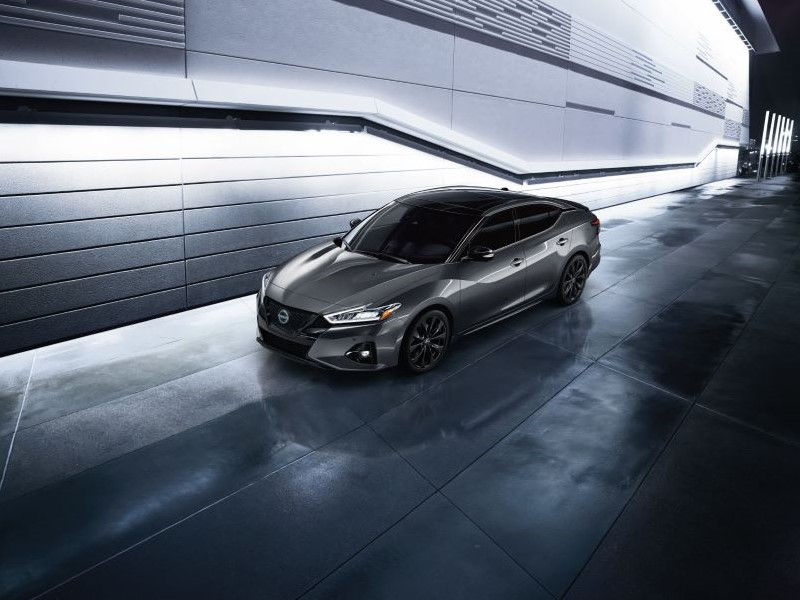 When you choose a midsize sedan as your next car, you don't expect a middling engine. Instead, you expect something with a little extra oomph. Undoubtedly, the 2023 Nissan Maxima and the Honda Accord put forth a great effort.
Pure Power
The Honda Accord's standard 1.5L 4-cyliner engine is turbocharged for an additional burst of power. With this outfit, it manages to produce 192 horsepower and 192 lb-ft of torque. While the Accord can be equipped with different powertrains, the highest output you'll find is 204 horsepower.
In spite of that turbo tech, the Honda Accord can't compare to the standard 3.5L V6 engine found in the 2023 Nissan Maxima. With its V6 powertrain, the Maxima is able to churn up 300 horsepower and 261 lb-ft of torque on the regular. Naturally, it's going to leave the Accord in the dust.
Smooth Rides
Each sedan does come standard with a CVT (Continuously Variable Transmission) though, which is designed to offer a smoother drive experience and achieve excellent fuel economy. The Maxima has an Xtronic CVT® with Drive Mode Selector. This allows you to seamlessly switch between Sport Mode and Normal to achieve the kind of thrilling drive you crave.
To help keep an eye on things, the Maxima will automatically display essential information thanks to the Sport Mode Power Meter. While the Accord also has a Sport mode feature, it doesn't offer anything like the Sport Mode Power Meter, so it might be harder to monitor your vehicle's performance.
▲ BACK TO CATEGORIES ▲
TECHNOLOGY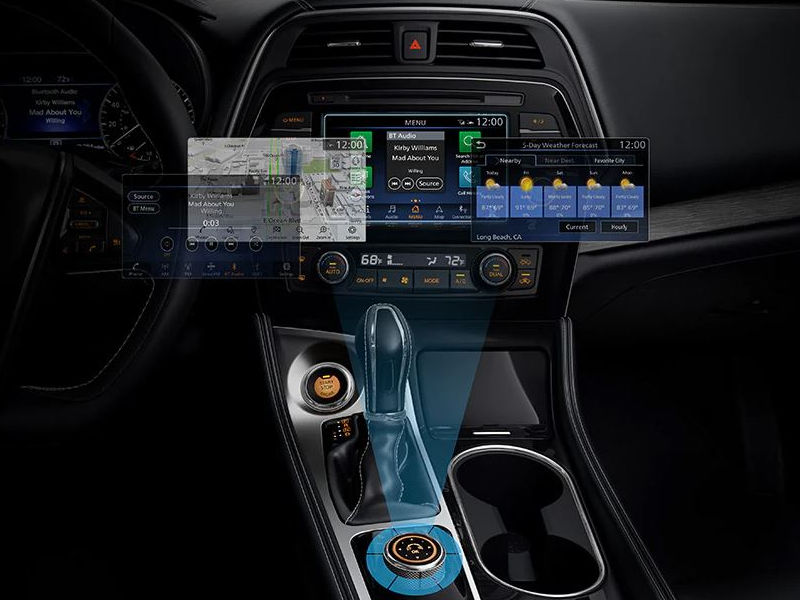 Both sedans are also well known for their infotainment arrays, with the 2023 Maxima in particular striving to pack in some extra gadgets. Modern-day technology can provide information, entertainment, and safety.
Infotainment
In the Nissan sedan, you'll have a couple different screens to manage your media and vehicle diagnostics. To your right, there's the standard 8-inch color touchscreen. Just over the steering wheel, you'll have the Nissan Advanced Drive-Assist® Display, too.
While the Accord does come standard with a touchscreen of its own, it's a bit smaller at seven inches.
Safety Technologies
The peace of mind granted by modern driver-assistance technologies is one of the biggest benefits to driving the Maxima or the Accord. Where the Maxima comes standard with Safety Shield® 360, the Accord has Honda Sensing® technologies. Both packages offer features such as High Beam Assist.
Features like Blind Spot Warning and Rear Cross Traffic Alert also come standard in the Maxima. The Accord is available with a Blind Spot Information System with Cross Traffic Monitor, but they aren't included in the standard suite of technology.
▲ BACK TO CATEGORIES ▲
INTERIOR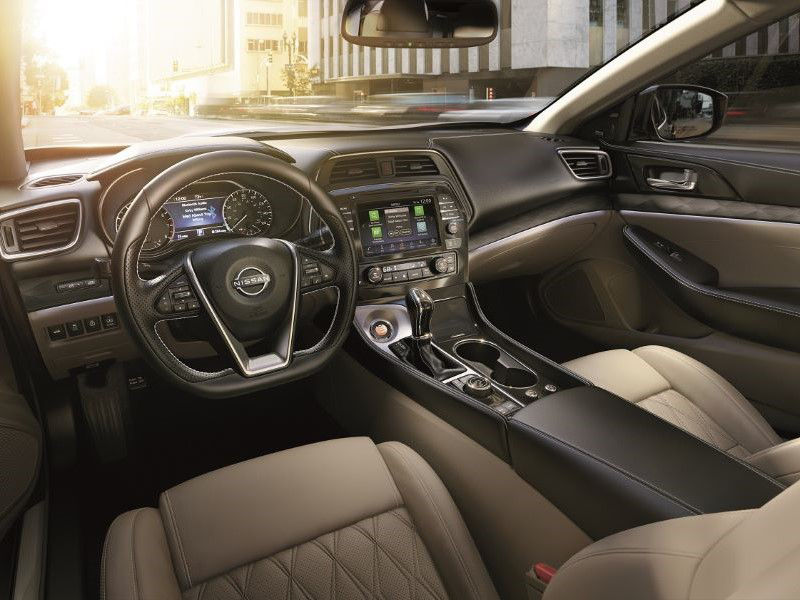 To match those high-tech infotainment arrays, the cabins of both the Maxima and the Accord need to come with ample amenities and comforts. The Maxima rises to the challenge in its base trim.
Comfortable Amenities
The Nissan Maxima shows off with standard Dual Zone Automatic Temperature Control. This feature is perfect for those extreme weather days.
It also has a standard 8-way power driver's seat with power lumbar support and leather-wrapped steering wheel and shift knob. Together, these features imbue the Maxima with a sense of luxury. Unfortunately, all these features are missing in the base trim of the Honda Accord. Once again, in order to compete, drivers will have to upgrade to a higher trim.
Year-Round Comfort
The Maxima also comes standard with heated front seats, something only found on higher trim levels of the Accord. The Nissan Maxima further steps up its game with the available climate-controlled front seats with a heating and cooling function. Something similar is only available in the Accord on the highest trim level.
While these vehicles are closely matched when it comes to interior space, you'll find that front-row passengers have more room to stretch out inside the 2023 Maxima. With 45 inches of legroom in the front row of the Nissan Maxima, passengers of the Accord will feel more cramped when they encounter the smaller 42.3 inches of legroom.
▲ BACK TO CATEGORIES ▲
Test Drive the 2023 Nissan Maxima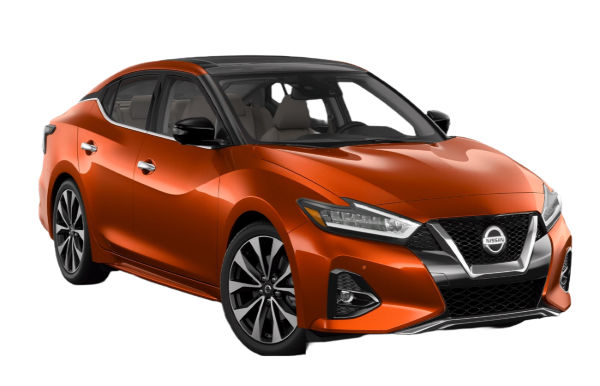 In a head-to-head matchup of the 2023 Nissan Maxima vs. the 2023 Honda Accord, it's clear that the Maxima comes out on top.
If you're looking to add a touch more luxury to your Amityville, NY lifestyle, why not get behind the wheel?
Contact South Shore Nissan to schedule your Nissan Maxima test drive today!
All of the tools you need to move forward with experiencing a new 2023 Maxima for yourself are conveniently available right here online.
---