DARE TO COMPARE
Nissan TITAN vs. Toyota Tundra

At a Glance: TITAN vs. Tundra
Are you looking for a truck that combines power, performance, safety, and comfort? If so, then you've probably heard the debate about the Nissan TITAN vs. Toyota Tundra. Which of these formidable trucks ultimately wins out?
Our team at South Shore Nissan took both trucks for a test drive so we could provide a detailed comparison of the two models. Want to see how they measure up? Well, read on! Whether you're driving through Amityville, NY, you'll want to learn more about these powerful vehicles.
HORSEPOWER
TITAN vs Tundra

REAR HEADROOM (CREW CAB)
TITAN vs Tundra

STANDARD TOUCHSCREEN
TITAN vs Tundra
See the Difference for Yourself
Select a category below to learn more about how the Nissan TITAN compares to the Toyota Tundra.
PERFORMANCE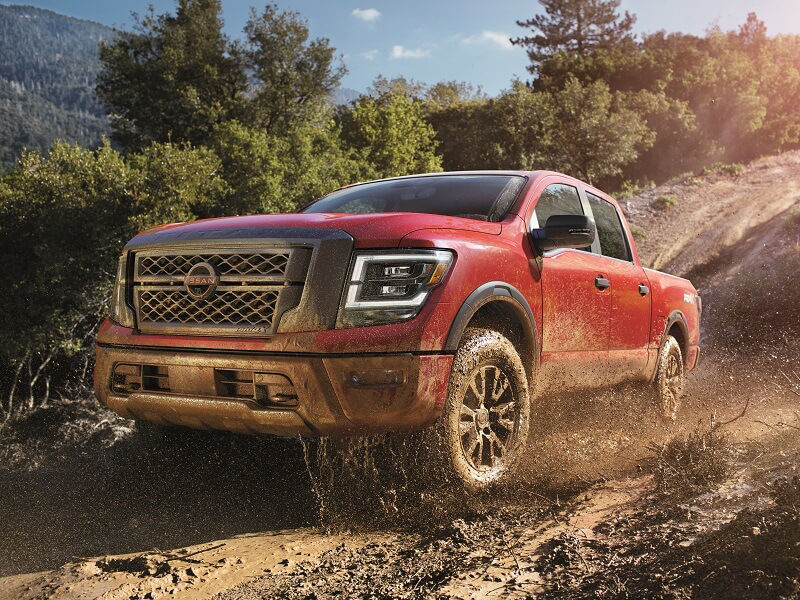 When you start your search for the perfect truck, power may be at the forefront of your mind. Both the Nissan TITAN and the Toyota Tundra are known for their powerful engines, but which one will provide all the power you crave?
Power & Performance
The Nissan TITAN comes packed with power you can feel at every turn. It has a 5.6L Endurance® V8 engine that delivers 400 horsepower and 413 lb-ft of torque.
On the other hand, the Toyota Tundra has a standard 3.4L V6 engine, which provides a less-exciting 348 horsepower and 405 lb-ft of torque.
Capability
If you're thinking about taking all that power off-road, both models are available with a 4-wheel drivetrain. The Nissan TITAN features shift-on-the-fly capability, so you can go from the asphalt to the dirt in a flash.
If you're packing the bed with supplies, you'll be happy to know both trucks have over 1,600 pounds of payload capacity.* Both models also come with a deck-rail system to secure your cargo, but only the TITAN comes with TITAN Boxes. These unique storage bins are integrated into the bed and are lockable to keep all your valuables safe.
▲ BACK TO CATEGORIES ▲
INTERIOR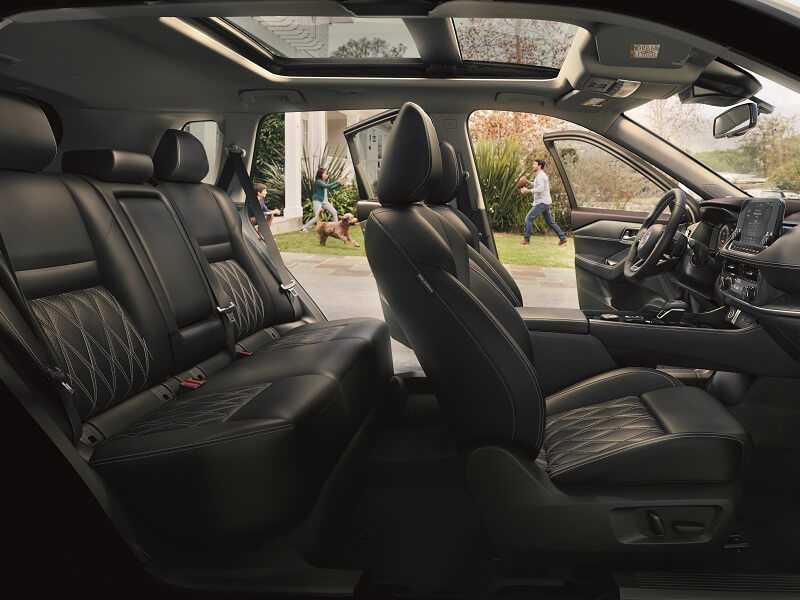 Power is important, but you'll also want to look at other categories to make the right decision. Step inside and you'll find two trucks outfitted with all the luxury amenities you need to wind down after a long day on the jobsite.
What Are They Like on the Inside?
While these trucks are known for their impressive powertrains, you'll also love what they offer inside.
Both the TITAN and the Tundra are available with leather-trimmed seats and climate-controlled front seats. Whether you're heading out on a camping trip or carpooling to the worksite, everyone will be comfortable.
Space to Stretch Out
If you're looking for the most spacious truck, you'll want to choose their available Crew Cab configurations. You'll quickly find that the Crew Cab of the Nissan TITAN has a lot more room to stretch out in the back row.
It offers 40.4 inches of rear headroom. Compare that to the Tundra CrewMax. It only has 36.9 inches of rear headroom.
▲ BACK TO CATEGORIES ▲
TECHNOLOGY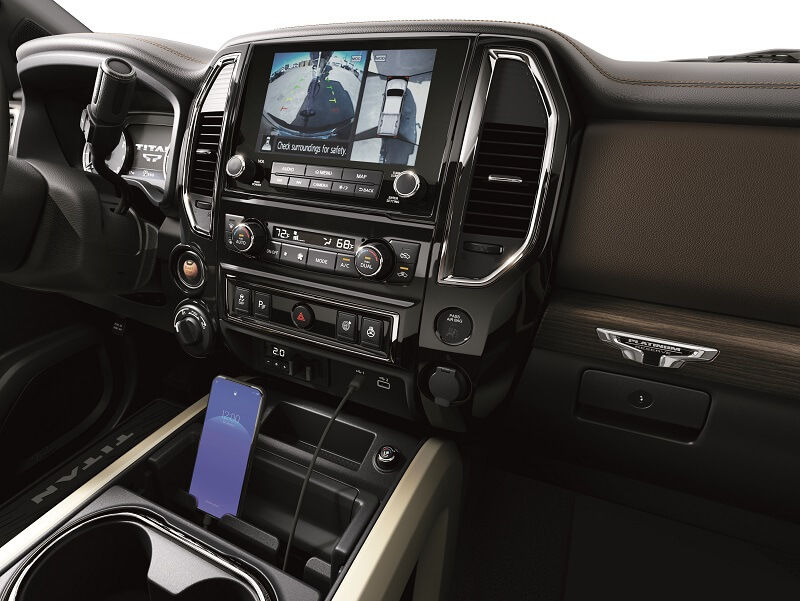 Whether you're blasting some tunes at the worksite or on a long road trip, connectivity features will help you turn up the music and access your driving information. Both models have a lot of interior technology to spruce up your drives.
Smart Technology
Staying connected has never been easier or more fun thanks to the Nissan TITAN. The available NissanConnect® Services powered by SiriusXM® provides several options you can customize to suit your specific needs and lifestyle.
Perhaps you want the Remote Engine Start System to start your truck with the push of a button. It comes with Intelligent Climate Control, which heats up or cools down the cab to your liking before you step out the front door.
Connect Your Phone
Both models come with an 8-inch touch-screen display that acts as the hub for all your entertainment and connectivity needs.
They also come with Apple CarPlay® and Android Auto™ integration, so you can stay synced to your favorite apps and music.
▲ BACK TO CATEGORIES ▲
What's the Verdict?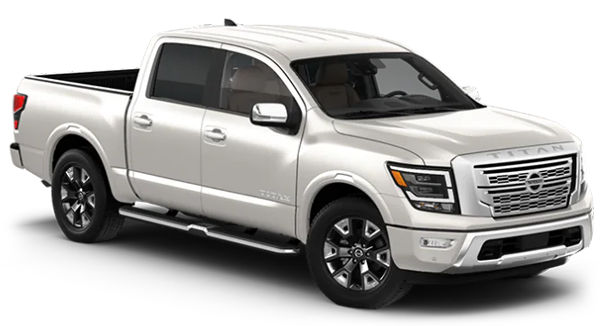 When all is said and done, the Nissan TITAN is the winner in this competition over the Toyota Tundra. It's got power, performance, and lots of features your whole family will love.
Ready to test it out for yourself and see the difference? If so, then head to South Shore Nissan and let us schedule a test drive for you today. We've helped drivers from Amityville, NY find great cars, and we're ready to help you, too!
All of the tools you need to move forward with experiencing a new TITAN for yourself are conveniently available right here online.
---
*Payload capacity varies by configuration. See Nissan Towing Guide and Owner's Manual for additional information.